This month, I decided to join in the fun with the
Ethical Fashion Blog
and put together a totally eco outfit - This month the 'thrifty' challenge of putting one together under £10
I thought as I get a lot of clothing in, this would be a fairly easy challenge but I was very much mistaken! In the end with a bit of up-cycling and some thrifting I found the perfect
combination
for this beautiful weather! So a shopping day it is…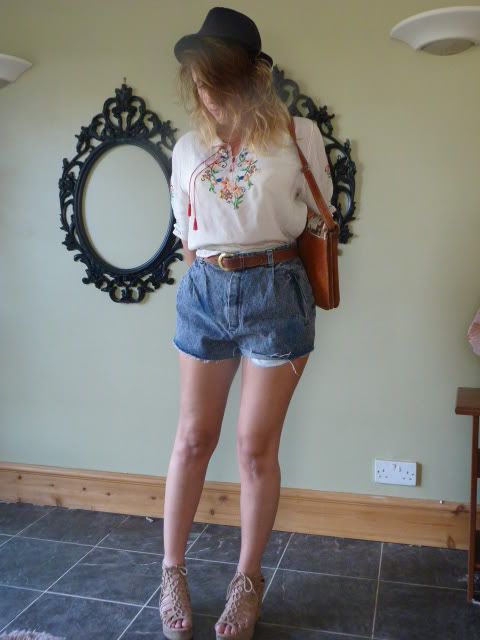 So, the outfit… starting from the top!
The hat

(my love) £2 - got it with a mix of stuff and

couldn't

bare to sell it
The top

was £1 -It had a large split up the side and some stains on it (nothing a little TLC

couldn't

fix) and it just absolutely beautiful, hand embroidered
The shorts used to be jeans, I picked these up at a vintage event for £1
The belt 50p in a thrift store when I was over in Canada last year
The shoes £5 in a charity shop - they looked like they had never been worn!
And the bag was given to me by a friend - it is a vintage tapestry and leather one and I love it!
So the total cost? £9.50
Its amazing what you can do with a tenner!
Lots of love
xxxx